5 ways Speedbox mobilizes your gear, saves your ass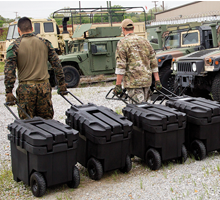 Your team just arrived in country. It's hot. It's dusty. You have incomplete information. There is a sense of "start doing things" pulling at you. You're moving your way through the unknown — you're calm, cool, and trying to prioritize what you think needs to happen next. But in these early moments there is only one certainty: the mission can't start until your gear and equipment is moved, organized and secure.

Speedbox makes quick work of this, because it's engineered to:

Move gear like luggage: The never-fail handle system with good grip and comfortable length, plus 300-pound capacity, plus solid, no-flat, off-road tires all add up to the leverage needed to easily move your gear through your FOB like you're pulling luggage through the airport. Beats the hell out of the duffle bag drag.

Drastically reduce load time: Engineered and optimized for a 463-L Pallet and ISU 90 fit, the sturdy modular container system stacks snugly 36 to a pallet using 90+ percent of usable space, and 15 in an ISU 90 with room in the middle for oversized equipment. Fits like a dream. A good one

Eliminate shift during transport: The handle of one box snaps into the lid of the next one, linking them together for stable transport. Wheels and teeth tuck into the lid of the one below to prevent lateral sheer. Integrated lift points at intuitive spots make stacking and unloading a breeze. Modular system reinforces itself under the net.

Secure your kit: Military-grade, American-made Speedbox is constructed of rugged, roto-molded polymer and able to withstand anything you throw in it or at it. The integral hinged lid is double-walled for strength and durability. Two sets of lock plates meet military physical security regulations. Sets a new standard, keeping your gear out of harm's way and anyone else's hands.

Protect your kit: A built-in gasket around the top creates an airtight and watertight seal for this buoyant box, and the air/water bleed valve, cast into the bottom, equalizes atmospheric conditions inside and out. It doubles as a drain, too, since Speedbox can hold water or ice and serve as a cooler, if needed. Seals the deal.
Speedbox is the brainchild of Matthew Summers, a former Green Beret and founder of Speed Box LLC, a Service Disabled Veteran Owned Small Business in Ridgeland, Mississippi. The modular container system for palletized cargo is on the NGREA FY2018 list of high priority items. For more information visit speedbox.us.

HIGH-RESOLUTION IMAGES AVAILABLE

FOR IMMEDIATE RELEASE (06/13/18)

Contact: Matt Summers, Speedbox Founder and President
shout@speedbox.us
Phone: (910) 964-7947
www.speedbox.us
---
Also in News

Speed Box is unveiling its kennel and cooler line at AUSA 
14-16 October 2019.