Loaded Question: What's the best way to nail pallet performance?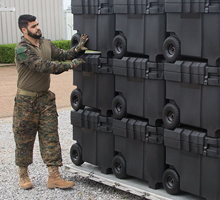 Speedbox, the smarter mobile storage solution that saves time, manpower, headaches and more, is optimized for your toughest deployment and goes anywhere you take it.
Fast, simple and secure transportation is built into its rugged core. With its ability to organize and protect as well as move your equipment, Speedbox sets a new standard across the board for any application: emergency preparedness, materials handling and packaging, military transport and tactical gear.
Speedbox features that were fine-tuned for 463-L pallet and ISU 90 fit also make this container the dream box for the LMTV and HMMWV. Intuitive and ergonomically correct lift points make for easy loading and unloading into standard vehicles with high ground clearance.
Speedboxes snap together. The never-fail handle of each box doubles as a locking device, snapping into the lid of the next one so the boxes don't move around in transit even over the roughest terrain. Slots for ratchet straps and parachute rigging provide an additional layer of security, to prevent any shift during transport. Three Speedbox Endurance-40s fit handily in the back of a HMMWV and a pickup truck, earning the box a spot on TDY as well as emergencies and deployment.
Speedbox is secure, protecting your gear and equipment not only from the elements — as a sturdy, buoyant, airtight, watertight, shatter-resistant container — but also from any unauthorized access. Two sets of lock plates offer two places for padlocks, meeting military physical security regulations and your own peace-of-mind standards.
Speedbox is invaluable in organizing, securing and moving sensitive communications equipment. The commo box, notoriously heavier than any other, also contains the most expensive and valuable gear. Speedbox's never-fail handle and no-flat, all-terrain wheels work as a lever, to make moving gear as easy as pulling luggage through the airport. Radios are safe, dry and protected inside.
Speedbox, a modular container system for palletized cargo, is a High Priority Item NGREA 2018.
HIGH-RESOLUTION IMAGES AVAILABLE
FOR IMMEDIATE RELEASE (06/13/18)
Contact: Matt Summers, Speedbox Founder and President
shout@speedbox.us
Phone: (910) 964-7947
www.speedbox.us
---
Also in News

Speed Box is unveiling its kennel and cooler line at AUSA 
14-16 October 2019.