Endurance-40 New and Fit to Move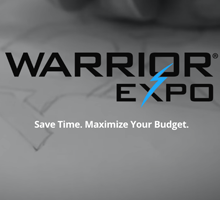 Speedbox's brand new Endurance-40 — rugged as the original and slimmer to suit extra duties — makes its debut at Warrior Expo West, THE Defense Resource & Training Expo, April 18-19 in San Diego, California.
With 300-plus exhibitors and more than 3,000 attendees, the Warrior Expo is a hub for innovative boots-on-the-ground equipment needs. The American-made Speedbox fits right in there — and anywhere you need to get your gear, intact.
Endurance-40 makes quick work of mobilization with a high-quality, durable, shatter-resistant box to keep your kit organized, secure and protected. The seal is watertight. The body is buoyant, windproof and waterproof. The never-fail handle interlocks boxes for no-shift security and maximized space in the air, and extends for easy transport on the ground. Solid, no-flat off-road tires take it anywhere you dare to go.

American-made and as well-designed as Speedbox's "built like a tank" Voyager-70, Endurance-40 also features lift holds, padlock plates, cam latches and parachute rigging slots.
Endurance-40 is optimized for 463-L pallet and ISU 90 fit and stacks up as an easy, simple solution for warriors, and also for sportsmen and outdoors enthusiasts on the go — whatever adventure lies ahead. It can even pull extra duty as a cooler! Endurance-40 comes in two great options to fit an army of uses: military grade and civilian grade.
Speedbox continues as the new standard in military mobile storage solutions, as Endurance-40 joins the popular Voyager-70 on the market
Take advantage of a military GPC discount on 6-pack purchases of Endurance-40 and Voyager-70.
---
Also in News

Speed Box is unveiling its kennel and cooler line at AUSA 
14-16 October 2019.